Located in Minato City, Tokyo. A classic twin room (28 m2) is available here. To keep guests and colleagues safe, the hotel breakfast experience may feel a little different. While it's goodbye to the normal style buffet breakfast for now. Cascade Cafe offers a wide selection of dishes, desserts, fruits, and bread which are all served in individual portions.
Set in a high-rise building along the bustling Roppongi Dori, this high-end hotel is a 9-minute walk from Tameike Sanno subway station, 2 km from the landmark Tokyo Tower and 3 km from the chic shops in Ginza.
Warm rooms feature flat-screen TVs and Wi-Fi (fee), plus minibars, and tea and coffeemakers. Upgraded rooms add city views, and access to a lounge with free breakfast and evening cocktails. Suites have living rooms, Blu-ray players and espresso machines.
There are 12 restaurants and bars, including a posh steakhouse, a sushi eatery, and a hip bar overlooking the city. There's also a seasonal rooftop pool, a spa and a shopping center.
---
*Please read before you contact us [Handling of Personal Information Notice]
Source : @IHG.
Source : @IHG.
About prevention of spread of new coronavirus infection
As the world adjusts to new travel norms and expectations, we're enhancing the experience for you – our hotel guests – by redefining cleanliness and supporting your wellbeing throughout your stay. We have expanded our commitment to cleanliness by:
Using new science-led protocols and service measures by enhancing the IHG Way of Clean
Partnering with industry-leading experts Cleveland Clinic, Ecolab, and Diversey
Launching a global IHG Clean Promise
IHG Way of Clean
We have a long-standing commitment to rigorous cleaning procedures and launched our IHG Way of Clean program in 2015 – developed in partnership with Ecolab and Diversey – both world leaders in hygiene and cleaning technologies and services. This program is now being expanded with additional COVID-19 protocols and best practices – many of which are already in place – to reflect the advice of regional and global health authorities, including the World Health Organization, Centers for Disease Control & Prevention, European Centre for Disease Prevention and Control, and local public health authorities in markets around the world.
IHG Way of Clean already includes deep cleaning with hospital-grade disinfectants, and guests can expect to see evolved procedures throughout the hotel, which may include:
Reception: Reduced contact at check-in, touchless transactions, front desk screens, sanitizer stations, sanitized key-cards, paperless check-out
Public Spaces and Facilities: Additional deep cleaning of high touch surfaces, social distancing, guidance to implement 'last cleaned' charts, and best practices for pools, fitness centers and lounges
Food & Beverage: New standards and service approach to buffets, banquets, room-service and catering
Guest Room: Reduction of in-room furnishings/high-touch items, new laundry protocols, use of electrostatic technology (at select hotels), and the addition of in-room IHG Clean Promise cards with cleaning procedures
Meetings and Events: Deep and more frequent cleaning of meeting and event spaces, access to ample hand sanitizer stations, socially-distanced seating and meeting room layout, guidance on the management of guest flow, single-serve and pre-packaged meal options.
Supporting the Wellbeing of Guests and Colleagues
Enabling the personal well-being of guests and colleagues is key. IHG is working closely with a team of medical experts at the world-renowned Cleveland Clinic to develop guidance and resources for hotel teams on returning to work and incorporating appropriate measures to enhance guest confidence and trust in our cleanliness, hygiene, and safety practices in this new environment, which may include:
Cleanliness information in hotels and on IHG's booking channels
Social distancing operating procedures and signage
Guidance on the use of protective equipment as necessary by hotel colleagues
Updated colleague training and certification
Availability of individual guest amenity cleaning kits
Sanitizer stations at high-touch points throughout hotels
Click HERE For more detail (official website).
Rooms
Room Facilities:
Dressing room
Wardrobe or closet
Minibar
Air conditioning
Safety deposit box
Ironing facilities
Iron
Heating
Carpeted
Refrigerator
Electric kettle
Sofa
Desk
TV
Telephone
Satellite channels
Flat-screen TV
Cable channels
Socket near the bed
Fold-up bed
Room Amenities:
Free toiletries
Toilet
Bath or shower
Slippers
Hairdryer
Toilet paper
Restaurant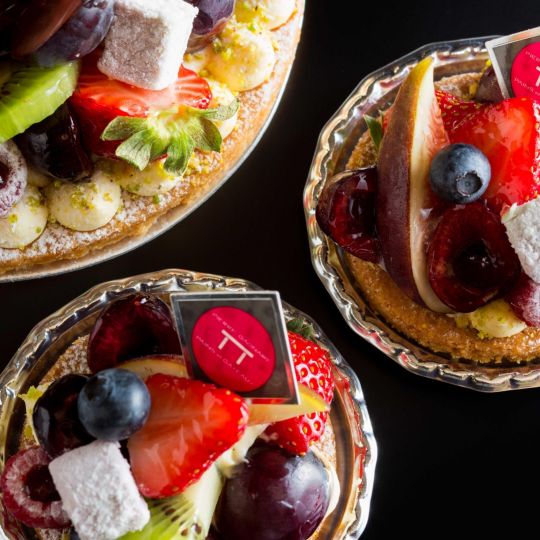 PIERRE GAGNAIRE PAINS ET GATEAUX

7:00 AM – 10.00 PM |
7:00 AM – 8.30 PM
A Sumptuous array of authentic Parisian bread, cakes, and pastries prepared using the finest ingredients. This elegantly designed deli boutique showcases Pierre Gagnaire's signature patisserie creations as well as a selection of inspired salads, baguettes, and beautifully presented exclusive gift boxes. Takeaway items and light snacks are available.
Another restaurant coming very soon.
ACCESS
ANA InterContinental Tokyo
Address: 1-12-33 Akasaka, Minato City, Tokyo 107-0052, Japan
Tel: +81 3-3505-1111
Local Shuttle Bus
Airport Transport Service Co., Ltd.
Radius Covered: From and to Haneda and Narita Airports
Bus transportation from and to Haneda and Narita Airports
TRAIN STATION
Shimbashi Station
Estimated distance to the hotel: 1.8
SUBWAY
Tamike-sanno Station
N/A
Estimated distance to the hotel: 1.8
Local Attraction
Offers food & beverages, daily necessities, and office supplies. ATM located within the store.
Access: 83 m (1-minute walk)
Opening Hours: Every day 24 hours
Suntory hall in the heart of Tokyo, now considered as the most pretigious concert hall in Japan.
Access: 48 m (1 minutes by walk)
Landmark Shinto site built in 1730, featuring a red-brown shrine & a large, ancient ginkgo tree.
Access: 900 m (3 minutes by car)
Opening Hours: Thu – Tue (09 AM – 05 PM)
Complex housing offices, restaurants & art museums, plus a skyscraper with a roof observation deck.
Access: 1,3 km (3 minutes by car)
Open 24 Hours
The Tokyo Imperial Palace is the main residence of the Emperor of Japan. It is a large park-like area located in the Chiyoda district of the Chiyoda ward of Tokyo and contains several buildings including the main palace, some residences of the Imperial Family, an archive, museums and administrative offices
Access: 2,1 km (7 minutes by car)
Large, modern venue presenting temporary exhibitions of Japanese & international art.
Access: 2,4 km (7 minutes by car)
Opening Hours: Wed – Mon (10 AM – 06 PM)